Slack vs. Microsoft Teams
Chat-based collaboration has been around for several years, but with the sudden impact at the beginning of the COVID-19 pandemic, Slack and Microsoft Teams both quickly rose to the forefront. But which one is better for your business? Whichever option you choose, you're still the winner, because two great collaboration platforms provide you with the features you want. Here's a six-category comparison to help you through the process.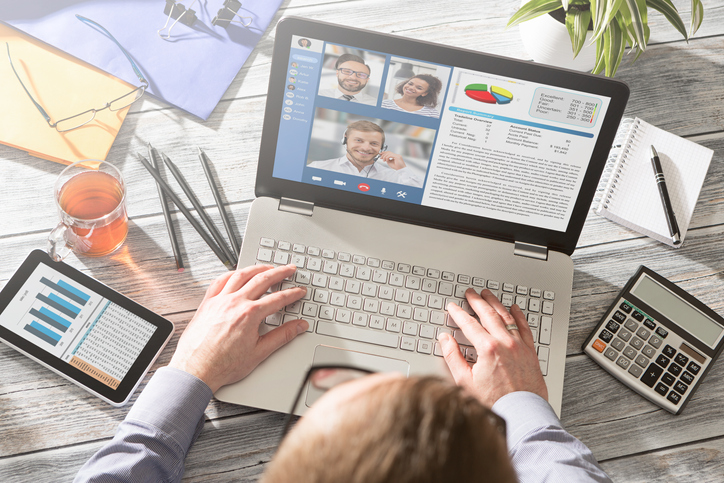 Business Tech Blog: Slack vs. Teams
Interface and Usability
Appearance: For customization, go with Slack for a ton of options.
Navigation/Dashboard: Slack focuses on work channels to separate projects, teams or topics. Teams focuses on the people being brought into the collaboration.
In-App Help: Teams features Help icons at the bottom of the sidebar, including training, topics, and what's new links, allowing you to browse or search. Slack's in-app chatbot is super easy to use for fast answers.
Chat: Teams will provide an experience closer to a word processor, with additional colors, fonts, and similar options.
Video and Voice Conference: Slack integrates well with Zoom, Webex and others. Teams build in videoconferencing but can use other options.
Notification Control: Teams provides many notification options, while Slack provides superior Do Not Disturb controls.
Integrations
Microsoft 365/Office 365: Not surprisingly, being a Microsoft product, Teams is better at integrating the business productivity suite, along with integration to SharePoint and OneDrive. Slack also integrates, but not as far as Teams does.
Google Workspace: If you use Google-based options, such as Google Calendar, Gmail, and Google Drive, you'll want to stick with Slack, because Teams doesn't even try it.
Salesforce: Salesforce bought Slack in July 2021, allowing easy integration. View Slack messages tied to specific Salesforce records and Salesforce alerts on Slack channels. Teams integrates with it, but not as deeply.
Overall: Slack offers significantly more third-party app integrations, currently tying into over 2,400 apps versus Teams' 700, with both apps providing the option to build customized apps and integrations, with Slack having about 935,000 customized apps.
Additional Noteworthy Features
Shared Channels: Slack Channels makes it easy to connect your workspace to a partner's workspace, improving collaboration. Teams provides guest access for outside parties.
Scaling: Slack supports unlimited users and channels, with over 100,000 users per channel. Teams allow unlimited users, up to 25,000 participants per team, 200 channels per team, and 5,000 users per channel.
Translation: Teams offers onboard message translation in 36 different languages. Again, Slack uses app integrations such as the Rosetta Translator bot.
Mobile and Web Apps
In this category, Slack and Teams were very even, with similar functionality, features and usability.
Security, Compliance and Enterprise Management
Security: Both have similar layers and degrees of protection overall. However, integrations in Slack could open new vulnerabilities.
Encryption: Both apps encrypt data while in transit as well as in storage. A wide range of capabilities and apps keep your data secure.
Enterprise Key Management: Teams offers this to a certain extent, but Slack's Enterprise Key Management lets you create encryption keys for messages and files.
Plans and Pricing
Free Options: Both apps provide free plans, but Teams is more generous, with unlimited meetings, messages, and search, up to 500 users, 2GB storage per user, 10GB shared storage, one-on-one chat, screen sharing, unlimited integrations, and encryption, while Slack has up to 10,000 messages, 10 integrations, one-on-one video calls, and two-factor authentication.
Slack Plans: Pro plan starts at $6.67/user/month and steps up to $12.50/user/month for Business+, with both billed annually. Enterprise Grid plan pricing requires contacting Slack sales. Paid plans provide unlimited access, messages, and much more.
Teams Plans: There are many plans for Teams, ranging from $5/user/month to $57/user/month, while adding more capability, such as scheduled meetings, recording, security, admin, and compliance features.
In Conclusion
Overall, Slack and Teams offer many of the same features. Consider what features you need and which option delivers those features best. If you do a great deal of Microsoft 365 work, consider giving Teams a long trial before switching. If, on the other hand, you tend to avoid vendor lock-in issues, are avidly using Salesforce, or use Google Workspace, give Slack a shot and see how well it will work for your enterprise.
Experienced technology executive with the vision and ability to obtain results. Expert in design and delivery of cost-effective, high performance information technology infrastructure solutions that address complex business problems. Strong network technology background especially in the financial services sector; knowledgeable in many aspects of trading technologies and low latency solutions.