$150K Ransomware Payment
A recent news piece published by Tech Republic highlights the discouraging reasons why too many businesses fall prey to hackers and pay ransoms for their digital property. Perhaps nothing adds insult to injury quite like someone burglarizing your organization and then making you pay for their crime.
A recent $150,000 ransom paid in Bitcoin to regain control of one small business's digital assets reveals why so many cybercrimes go unreported. As staggering as the data breach statistics are, they may just be the tip of the spear. Security journalist Karen Roby conducted a Q&A with an unidentified CFO who made the decision to set aside pride and succumb to a hacker's demands.
"His company chose not to get authorities involved given the value that was at stake, and the company's immediate need to gain back control of its network," Roby reportedly stated. "We're hoping his first-hand account will help you better understand what these types of ransomware attacks look like and give you an idea of how to better protect your own organization."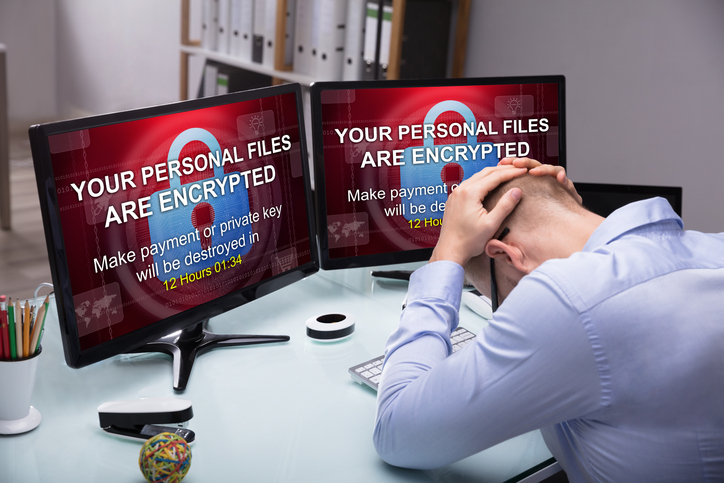 How Do Ransomware Attacks Happen?
Ransomware attacks rank among the more prevalent methods used by digital thieves. The underlying strategy mirrors that of taking someone hostage and demanding payment from loved ones for their safe return.
In these cases, a company's digital assets are taken hostage by inserting malicious software that effectively gives hackers total control of a network. Email remains the most-used delivery system. When someone in an organization gets tricked into clicking on a link or downloading a file, the ransomware application enters the network and hackers take control of the system and devices.
In order to regain control, cyber-thieves demand payment — typically in Bitcoin — in exchange for a decryption code. Like real-life hostage-taking, paying ransoms does not necessarily ensure the criminals will hold up their end of the bargain. Sometimes ransom-payers never receive the code. Other times, hackers delete systems to wipe away any digital fingerprints.
Why Some Decision-Makers Pay Ransoms
A ZDNet article called "Ransomware attacks: Why and when it makes sense to pay the ransom," highlights why more businesses pony up rather than contacting the authorities. Written by Larry Dignan, the piece points out that the decision often comes down to cold financial calculations.
"Now paying ransomware is likely to go against conventional wisdom. The practice may also make you throw up in your mouth," Dignan reportedly states. "However, there are real costs to having your company or city dead in the water for days. Paying ransomware should be viewed as any other business decision."
In the case of the Tech Republic Q&A, the small business promptly contacted a third-party IT professional to assess the potential fallout of not paying the hacker's demand. A quick review of the outfit's digital assets revealed that the cybercriminal did not necessarily have control of what many consider to be the most valuable data. These typically include the following.
Banking information
Healthcare records
Personal identity information such as Social Security numbers
Intellectual property files
"The third party that we spoke to that were acting as our agent between us and the hackers. They said, 'This is strange. You don't really have anything they can hold over your head other than just stopping your business.' But we engaged them quickly," the ransomware victim reportedly said. "Ironically, they worked straight through on a Sunday to help us and by Monday morning we were in full agreement, and they began the conversation with the hacker group to see what we could get done."
The third-party negotiated the ransom of $400,000 down to $150,000 in what took on the appearance of a corporate contract negotiation. The process revealed that some hackers conduct themselves like ordinary businesspeople. An encryption code was delivered, luckily, and this criminal outfit even offered tech support to the victimized company if they ran into problems getting computers back online.
"Yeah. I mean, if anything has made me laugh about this whole situation is that it's just the selective morality of, 'Hey, we know we've robbed you of money and your files and held you at our whim, but by the way, we're here to help 1-800 …' It's unbelievable," the victim reportedly said.
The Tech Republic's microcosm looks at why organizations pay ransomware demands points out that some are overly reliant on their network. Failure to have a go-to backup system or secure digital assets that can be leveraged leaves industry leaders with a hard choice. Either pay up or sustain even greater financial losses. Bitcoin payouts are the hidden cost of subpar cybersecurity.
Experienced technology executive with the vision and ability to obtain results. Expert in design and delivery of cost-effective, high performance information technology infrastructure solutions that address complex business problems. Strong network technology background especially in the financial services sector; knowledgeable in many aspects of trading technologies and low latency solutions.